The Belgian Malinois is a breed of dog renowned for its intelligence, strength, and loyalty. These courageous K9′ have been used in the military since World War I, where they quickly earned a reputation for their heroic actions. From search and rescue operations to guarding bases, these remarkable dogs have proven themselves invaluable on the battlefield. In this article, we will explore the Belgian Malinois' qualities that make them such a formidable ally for the military and discuss why it is so important to recognize their contributions. Get ready to meet some of history's bravest heroes – four-legged ones! Let's dive in!
History of Belgian Malinois in the Military
Belgian Malinois have been used in military operations since World War I due to their exceptional abilities. Their keen sense of smell, agility, and endurance made them excellent messengers and ambulance dogs. In recent history, they have gained recognition for their role in high-profile military missions, further solidifying their status as premier military dogs.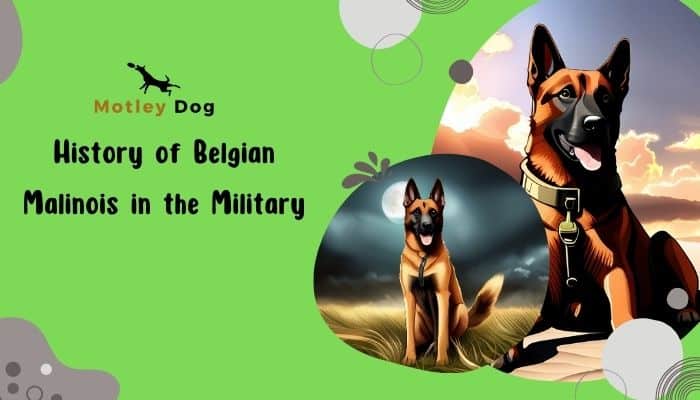 When and why they started being used in the military
Belgian Malinois were first used in the military as early as World War I. Their natural instinct and intelligence made them an ideal choice for roles such as messengers, scouts, and ambulance dogs. In more recent years, they have become particularly renowned for their work in special operations units, where their exceptional abilities are especially valued. This has led to Belgian Malinois becoming one of the most sought-after breeds for military operations.
Notable historical instances of their use
The Belgian Malinois has been a trusted member of various military forces around the world for decades, thanks to their remarkable suitability as a military dog. In fact, there have been many notable historical instances of their use in various military operations. They were used extensively in both World War I and World War II by the Belgian Army, and even served as messengers at the front lines. During the Vietnam War, the Malinois was highly valued for its ability to track down and flush out hidden enemy soldiers. Moreover, they served as explosive detection dogs during Operation Desert Storm. These examples only scratch the surface of the Belgian Malinois' long and storied military career, and it is safe to say that they have more than earned their distinguished reputation in the armed forces.
Traits That Make Belgian Malinois Suitable for Military Work
Belgian Malinois is one of the most versatile dog breeds that offers the perfect skillset suitable for military work. These dogs are intelligent, alert, and highly trainable, which makes them a valuable asset in the battlefield. The Belgian Malinois is known for its athleticism, stamina, and courage, qualities that are necessary for any military operation. They are quick learners and possess a strong work ethic, which allows them to handle even the toughest of training regimes. The Malinois is also incredibly loyal, making them a perfect companion for any military professional. With their keen sense of smell and acute hearing, these dogs can detect even the slightest signs of danger, making them a valuable member of any military unit. The Belgian Malinois is undoubtedly an impressive breed that has proved to be a reliable and formidable presence in the military for decades.
Physical Traits
Belgian Malinois are medium-sized dogs with a robust build, known for their incredible strength and agility. Their compact size allows them to navigate challenging terrains with ease, while their endurance enables them to perform demanding tasks over extended periods.
Mental Traits
Belgian Malinois are highly intelligent and trainable. They can learn complex commands and tasks quickly, making them ideal for varied military operations. Moreover, their focus and alertness are critical in high-pressure situations requiring precision and quick reactions.
Temperament
Belgian Malinois are loyal, courageous, and resilient dogs. Their unwavering loyalty makes them reliable partners, while their courage allows them to face dangerous situations without hesitation. Their resilience helps them adapt to challenging environments and recover quickly from demanding tasks.
Training and Handling of Military Belgian Malinois
Training a Belgian Malinois for military work is an intensive process that begins when they are puppies. It involves obedience training, agility training, and specialized training based on their intended role. Given the complexity of their tasks, it's crucial that they are handled by experienced trainers who understand their needs and capabilities.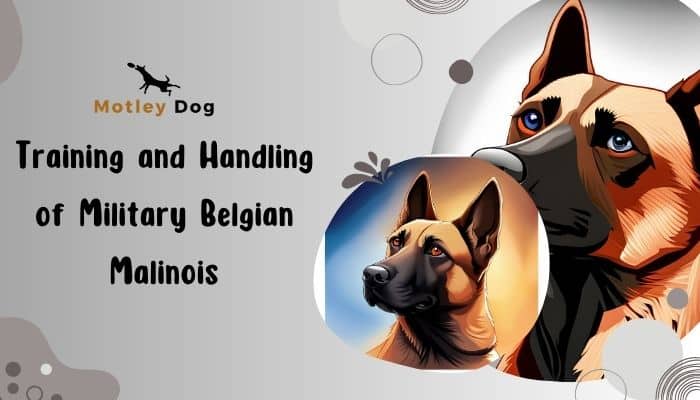 Overview of the rigorous training process
The Belgian Malinois has been a top choice as a military working dog around the world for years now. This K9 hero is known for its intense focus, loyalty and physical stamina. But what makes these critters perfect for this kind of work? It's all thanks to their rigorous training process. These highly trained dogs go through systematic training that includes obedience, protection, and detection training in conditions like darkness, gunfire, and loud noises. It takes months of continuous and intensive training to shape these dogs into top-notch, reliable military assets. Plus, these furry soldiers serve in various military activities ranging from detection of explosives, tracking down enemies, and patrolling of restricted areas. Simply put, Belgian Malinois dogs undergo a strenuous and demanding training regimen to serve their country and keep us safe. Incredible!
The importance of experienced handlers
Belgian Malinois are undoubtedly one of the most impressive dog breeds out there. With their incredible agility, natural intelligence, and remarkable drive, it's no wonder they're often used as Military dogs. But training and handling a Malinois isn't a job for just anyone. These dogs are incredibly intense, and if you don't have the right experience, it won't be a good fit. That's why experienced handlers are crucial when it comes to working with Belgian Malinois in a Military capacity. These experts understand how to bring out the best in the breed, keeping them focused, responsive, and highly effective in a variety of operations. Without this level of expertise, the power and potential of this remarkable breed may not be fully realized.
Notable Belgian Malinois Military Dogs and Their Contributions
Several Belgian Malinois have made significant contributions to military operations. For instance, Cairo, a Belgian Malinois, was part of the Navy SEAL team that conducted the operation leading to Osama bin Laden's demise. Another notable Malinois is Conan, who played a critical role in the raid that resulted in the death of the ISIS leader, Abu Bakr al-Baghdadi.
Highlight a few notable Belgian Malinois military dogs and their achievements
Cairo – Cairo was part of the Navy SEAL team that led the operation resulting in Osama bin Laden's death. His bravery and strength enabled the successful completion of the mission.
Conan – Conan, a Belgian Malinois, played a critical role in the raid that resulted in the death of Abu Bakr al-Baghdadi. His courage and loyalty made him a hero to many.
Remco – Remco was part of the coalition forces that conducted a successful mission in Iraq to capture Saddam Hussein. He assisted in tracking down the former president, leading to his eventual arrest and trial.
Diesel – Diesel was a Belgian Malinois who served with French special forces in Afghanistan. He was killed during an operation to locate a Taliban leader, and his courage and dedication to duty were widely praised.
Nero – Nero was part of the US Army's Special Operations Forces and was used for various missions including search-and-rescue operations. His loyalty and commitment to service are remembered as being extraordinary.
| Dog Name | Notable Achievement |
| --- | --- |
| Cairo | – Led the Navy SEAL team in the operation that killed Osama bin Laden, showcasing bravery and strength. |
| Conan | – Played a crucial role in the raid resulting in the death of Abu Bakr al-Baghdadi, earning admiration for his courage and loyalty. |
| Remco | – Assisted coalition forces in capturing Saddam Hussein in Iraq, contributing to his eventual arrest and trial. |
| Diesel | – Served with French special forces in Afghanistan and was killed during an operation to locate a Taliban leader, praised for his dedication and courage. |
| Nero | – Part of the US Army's Special Operations Forces, known for his extraordinary loyalty and commitment in various missions, including search-and-rescue operations. |
These remarkable dogs have demonstrated their bravery and loyalty time and again, and they are a source of pride for their handlers and people everywhere. The contributions made by these Belgian Malinois should never be forgotten. Moving forward, it is important to recognize the value these canines bring to military operations. They should be given all due respect and admiration.
Conclusion
In conclusion, the Belgian Malinois has proven itself to be a valuable asset in military operations due to its intelligence, strength, and loyalty. The bravery and dedication of these dogs have enabled them to play an integral role in many successful missions. The courage, commitment, and selflessness displayed by these canines should never be forgotten. They are true heroes that deserve the highest level of respect and admiration.
Thank you for taking the time to learn more about this remarkable breed. We hope that this article has shed some light on the important contributions Belgian Malinois make to our military operations.
Long live the heroes of the battlefield! Salute to these brave four-legged warriors.