If you're the proud owner of a Belgian Malinois, then you know they're loyal and loving pets, but unfortunately their strong personalities can sometimes be accompanied by unexpected medical issues. One such issue is when your Belgian Malinois begins to vomit without any signs of illness or distress. If this happens to your pet, it's important to remain calm and investigate what could be causing the vomiting so that you can provide them with necessary treatment. In this blog post we'll be discussing some potential causes of vomiting in a Belgian Malinois and how you should approach medication if needed.
Common Reasons for Vomiting in Belgian Malinois Dogs
Belgian Malinois dogs are a breed known for their intelligence, loyalty, and unwavering energy levels. While these dogs are generally healthy, they are not exempt from experiencing vomiting from time to time. In fact, there are several reasons why your beloved Malinois may start to vomit, ranging from minor issues to more severe health concerns. One of the most common reasons is simply eating too fast or too much, causing them to regurgitate the food back up. Another reason may be due to a change in their diet or an allergic reaction to a certain ingredient. Additionally, gastrointestinal issues such as infections or blockages can also lead to vomiting in these dogs. As a responsible pet owner, it is important to keep an eye on your Malinois and seek medical attention if you notice persistent vomiting or any other concerning symptoms.
Identifying the Symptoms of Vomiting in Your Dog
As a dog owner, it's important to pay attention to any changes in your furry friend's behavior. One common issue that can arise is vomiting, which may be a sign of a larger health problem. Symptoms of vomiting in dogs include drooling, loss of appetite, lethargy, and of course, the vomiting itself. It's important to note that occasional vomiting is normal, but persistent vomiting should be addressed by a veterinarian. By keeping an eye out for these symptoms and taking action if necessary, you can help keep your pup healthy and happy.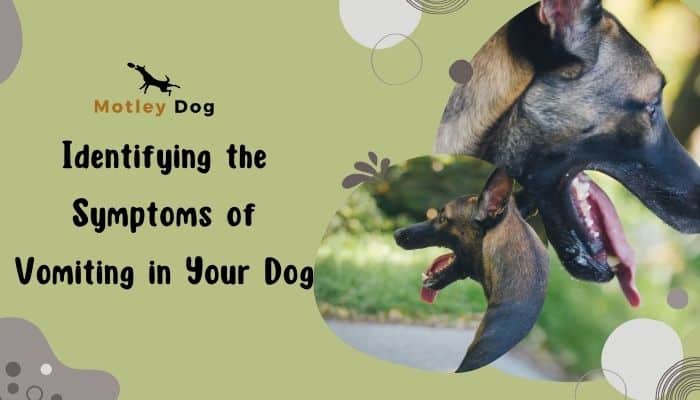 | Symptom | Description |
| --- | --- |
| Frequent vomiting | Your dog vomits multiple times within a short period or experiences recurrent vomiting episodes. |
| Dry heaving | Your dog appears to be retching or attempting to vomit without producing any vomit or bringing anything up. |
| Abdominal pain | Your dog may exhibit signs of discomfort or pain in the abdomen, such as whining, restlessness, or a hunched posture. |
| Excessive drooling | Your dog may have an increase in salivation or drooling, which may accompany or precede vomiting. |
| Loss of appetite | Your dog may show a decreased interest in food and refuse to eat, which can be a sign of an underlying issue. |
| Lethargy | Your dog may become unusually tired, weak, or lack energy, displaying a reluctance to engage in normal activities. |
| Dehydration | Vomiting can lead to fluid loss, resulting in dehydration. Signs include dry gums, sunken eyes, and loss of skin elasticity. |
| Blood in vomit | The presence of blood in your dog's vomit can indicate various underlying conditions and should be assessed by a veterinarian. |
| Change in behavior | Your dog may exhibit changes in behavior, such as increased agitation, restlessness, or withdrawal. |
| Other accompanying symptoms | These may include diarrhea, weight loss, fever, pale gums, or foul-smelling breath, which require veterinary attention. |
When to See a Veterinarian
Our furry friends are an important part of our lives, and as pet owners, it's our responsibility to make sure they are healthy and happy. One way to ensure this is by knowing when to take them to the veterinarian. While regular check-ups are recommended, it's also important to be aware of any changes in your pet's behavior or appearance. If your pet suddenly loses their appetite, seems lethargic, or displays unusual behavior, it's time to schedule a visit to the vet. Additionally, if your pet experiences any vomiting or diarrhea, has trouble breathing, or appears to be in pain, do not hesitate to seek medical attention for them. Remember, catching problems early can prevent more serious issues down the line and help keep your furry friend healthy for years to come.
Preventative Measures to Avoid Gastrointestinal Problems in your Dog
Dogs are our loyal companions and it's only natural to want to care for them in every way possible. One of the most common issues that dogs face is gastrointestinal problems, which can be a cause of major discomfort for them. Fortunately, there are several preventative measures you can take to ensure that your furry friend stays healthy and happy. Feeding them a balanced diet and avoiding table scraps is a great way to start. Additionally, keep plenty of fresh water available for your pup to drink, as dehydration can lead to digestive problems as well. Regular exercise and avoiding stress are also important factors to consider, as they can have a major impact on intestinal health. By taking these steps, you can help ensure that your furry friend stays healthy and happy for years to come.
Dietary Changes that can Help Reduce Vomiting in Belgian Malinois Dogs
Belgian Malinois dogs are known for their agility and intelligence, but like all breeds, they can be prone to certain health issues. One common issue that can affect these dogs is vomiting. If your furry friend is experiencing vomiting, it can be uncomfortable for them and distressing for you. Fortunately, there are some dietary changes that can help alleviate this issue. It's important to first consult with your veterinarian to rule out any serious underlying conditions. Once that's cleared, a switch to a bland diet with foods such as boiled chicken and rice can help reduce vomiting. Avoiding foods that are high in fat or difficult to digest can also help. Feeding smaller meals more often and providing access to fresh water at all times can also be beneficial. With these dietary changes, your Belgian Malinois can hopefully feel better and get back to wagging their tail with joy.
Home Remedies for Treating Vomiting in Your Belgian Malinois Dog
Seeing your beloved Belgian Malinois dog feeling sick and vomiting is never a pleasant experience. Instead of rushing to the vet immediately, you can try some simple and effective home remedies to alleviate the vomiting and make your pup feel better. One solution is to withhold food for around 12 hours to let your dog's digestive system settle down. Then offer small amounts of boiled chicken and rice as a bland and easily digestible meal. Ginger is also a great natural remedy that can calm your dog's stomach, you can give your pup a small amount of fresh ginger root or ginger powder mixed with a little bit of honey. Another option is to offer your pup Pedialyte to keep them hydrated and replace lost electrolytes. These remedies can help treat vomiting in your Belgian Malinois dog and hopefully have them feeling back to their energetic and playful selves in no time.
To sum up
Keeping a close eye on your Belgian Malinois to monitor changes in behavior that may be caused by vomiting is essential for their health and safety. Monitor their eating patterns and look out for symptoms of vomiting such as retching, abdominal pain, or loss of appetite. If these signs persist, speak to a veterinarian for more assistance on the next treatment plan. Also consider implementing preventative measures such as avoiding potential toxins or allergens, providing a balanced diet rich in fiber and protein, and supplementing with probiotics can help ensure your Belgian Malinois remains healthy. Furthermore, creating a quiet environment and limiting activity after meals can give your dog the best chance at avoiding intestinal issues like vomiting. With these precautions together with proper medical supervision if needed, you can help keep your pet safe from gastrointestinal dangers like vomiting for years to come.